While the Bernie bird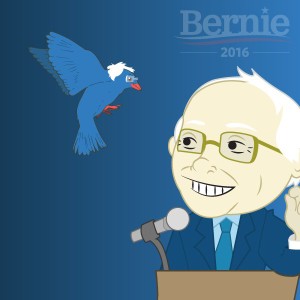 video has gone viral, CitiSven has focused on a prominent item in the images that — well — probably almost everyone else let their eyes pass over without consciously registering that there was a water bottle on the podium.
This guest post is a far more thoughtful and eloquent look at water bottles on the podium than my discussion, several years ago, of Barack Obama's Drinking Problem.
By now, everyone has seen the iconic photo of the bird landing on Bernie Sanders' podium at a recent rally in Portland. While the reactions to what's come to be known as the "Birdie Sanders" incident have ranged from "the universe is rooting for Bernie" to "it's a bird, alright," depending, I suppose, on the observer's affiliation in the Democratic primary, the spontaneous and synergistic convergence of natural world with human emotion undoubtedly made for an iconic image.
Personally, I thought it was a genuinely sweet moment. However, as someone who cares deeply about said natural world I couldn't help but feel disturbed by something in the image that was smaller than Bernie but larger than the bird: the single-use plastic water bottle.