November 14th, 2016 · 2 Comments
→ 2 CommentsTags: 2016 Presidential Election
November 4th, 2016 · 5 Comments
The Paris Accords are not a magical solution to the world's ills. As a static document, what was signed will not solve climate change, will not prevent many degrees Celsius of warming.  They do, however, bring to the table every key nation with agreed-on commitments for action and, even more importantly, have a built 'ratcheting process' that will enable a race to accelerate progress in the years and decades to come.
Thus, let me join others greeting with celebration its going into effect …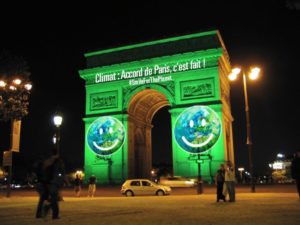 even while recognizing that there is much, much work to be done …
→ 5 CommentsTags: Energy
October 31st, 2016 · Comments Off

on SWEDISH FISH GOING EXTINCT: Energy Smart @SenJeffMerkley w/fundraising email of year (for #climate champions)
For the past decade, Energy Smart Jeff Merkley has been one of the steadiest and most thoughtful voices on climate change. Not surprising that what might be the best Halloween fundraising email, certainly the most climate-oriented one, came from him as he warns us that "Swedish Fish [are] going extinct …"
From: Senator Jeff Merkley <campaign@jeffmerkley.com>
Date: Mon, Oct 31, 2016 at 2:05 PM
Subject: Swedish Fish going extinct

We don't need the  to save our planet.

We don't need 

  to fight the Koch Brothers cash.

When glaciers in the

are melting and

are going extinct, you don't need climate

to tell you what's going on.

To paraphrase President Obama:

Don't

. Vote!

And have a safe and happy Halloween!

Jeff
Comments Off on SWEDISH FISH GOING EXTINCT: Energy Smart @SenJeffMerkley w/fundraising email of year (for #climate champions)Tags: Energy
October 31st, 2016 · Comments Off

on #BeforeTheFlood: Powerful @LeoDiCaprio #Climate travelogue truly must watch, must absorb
My Energy/Climate Bookshelf is far more than a shelf, it is bookshelves.  Add in the 10,000s of papers, studies, blog posts, and my exposure in this arena is, well, easy the equivalent of a small library.  When I sit down to watch something on energy, on climate, I therefore sit down jaded … is this REALLY worth my time and energy.  I watch shows with the equivalent of a red pen used for grading a paper or colorful editing of a draft report.  Not always the easiest or friendliest of audiences.
As I started watching the just released Before the Flood, I didn't expect much and thus expectations weren't hard to exceed … Forget exceeding those low expectations, it really is powerful.  From the powerful images of the raging waters in Greenland to tar sands to interviews with Miami's mayor and thoughtful (under siege) climate scientist Michael Mann, my attention is captured.
The power of a 'travel documentary', putting images, sound, emotion, and substance together — creating a new engagement with and way of thinking about material that (sigh, sadly) I might already have well known 'intellectually' but still haven't fully absorbed.
Highly recommended … take the time to watch the film … Before The Flood is available to watch free on youtube … at least for a limited time.  Watch it and share with others.
Comments Off on #BeforeTheFlood: Powerful @LeoDiCaprio #Climate travelogue truly must watch, must absorbTags: climate change
October 19th, 2016 · Comments Off

on While enjoying sandals in DC during October or garden salad in January, remaining aware of climate threat
It is mid-October in the Washington, DC, suburbs and like most of the nation — much of the world — we are in a heat wave. Rather than bundling up in sweaters, a more appropriate fashion selection involves shorts and sandals.  It is, to say the least, incredibly pleasant to wander outside in such balmy weather as Halloween decorations start to dominate the neighborhood.  Shadowing enjoyment, however, is the looming reality that this backyard phenomena is a very-close to — literally at — home example of how human-driven climate change is having very real impacts today.  While today is comfortable, the added heat in the system is disrupting flora and fauna cycles and this added heat is far less enjoyable in August than October.
To start the year, we enjoyed a salad directly from the garden
It is 3 January 2016.

Here is the lettuce that I just harvested from my garden — wild lettuce from plants we had dined off of last spring and then in the fall — and for which I will be making a salad dressing shortly.
We enjoyed it even as we recognized the weirdness and how this was a truly locavore example of climate change impacts.
Even my youngest recognizes the weirdness — in pulling shorts out of storage for wearing during this odd October heat, the comment:
it's fun to have it so warm but its weird …
We enjoy life. We are enjoying the 'nice' weather even as we recognize the ominous implications behind this 'nice weather'.
Let us be clear. The climate is warming and humanity is driving this warmth. 2016 is turning out to be hotter than 2015. 2015 was hotter than 2014 … The 2010s are looking to be hotter than the 2000s. The 2000s were hotter than the 1990s. The 1990s were hotter than the 1980s … And, in another critical signal, each decade is seeing more record high temperatures and fewer record low temperatures (when, in a 'normal' climate regime, these should roughly average out). Despite Jim Inhofe's snow-ball packing skills, human-driven climate change is a reality and is a menace for human civilization.
Regretfully, all too many have a hard time seeing past their backyard and beyond the closest temporal events. I remember, awhile ago, the wife of one of my best friends stating during a warm weather period in January: "If this is climate change, give me more because I don't like the cold." Hmmm … perhaps that 'cold' is part of the climate that fostered the world surrounding her (the animals, plants, agriculture, …) and enabled the civilization she and her children live in. Simply thinking about that comment, the blind opacity to the global linkages and implications of that weather she was celebrating, sends chills down my spine.
Jason Samenow, a Washington Post 'Capital Weather Gang" editor with "ten 10 years as a climate change science analyst for the U.S. government", published something today eerily reminiscent of that woman's comment. Why in the world are people complaining about this warmth? It's glorious outside begins.
December is less than six weeks away and the Washington region is basking in four straight days of 80-degree warmth. This weather is simply fantastic and we celebrate it, without apology.
Rather than seeking to tackle the conundrum between the very understandable embrace of 'great' weather with the substantive knowledge of climate change science and risks that one should have gained in 'ten years as a climate change analyst', Samenow revels in the enjoyment of the warm weather and simply brushes aside, in a dismissive manner, the climate change linkage.
Some of the environmentally-concerned refuse to enjoy this weather worried it is a sign of global warming. But such "Indian summer" weather is a normal aspect of the antic climate. Many Octobers we have such lovely spells of 80-degree warmth. Yes, global warming may be adding a degree or two to our high temperatures, so it's 84 instead of 82, but this isn't a reason not to embrace it.
Not very hard for someone to read this as 'those whiny environmentalists, it is only a degree or two and that is no big deal …' And, the the "climate" is always "antic". So what if we warm the globe a bit? Does it really matter?
First, of course it matters. We are already experiencing damages (including in the United States) from rising seas, from worsened storm surges, disrupted weather patterns (just how many 500 or 1000 year storms have you heard about), etc, etc, etc … And, that is with roughly 1 degree Celsius (or 1.8 degrees Fahrenheit) of warming.
Second, such dismissive writing from 'expert' journalists helps to undermine the development of reasoned consensus for action.  Yes, as a long-time DC native, I have always enjoyed Indian summers — all too often too brief — periods of warm interludes in the fall season.  They, however, have trended toward later and hotter through my life — with that later/hotter trend accelerating.  Samenow is a trained meteorologist and experienced 'climate change analyst', he owes it to his readers to provide a substantive and meaningful context.
Third, while Samenow writes 'adding a degree or two to our high temperatures' in this article, in an article later in the day about record-breaking temperatures in the region he notes:

Temperatures in the D.C. region Wednesday afternoon hit levels typical of the height of summer — surging to 86 or 87 degrees.

For a second straight day, the temperature at both Dulles International and Baltimore-Washington International Marshall airports set record highs.

Through 3 p.m., Dulles had climbed to 86 degrees, easily besting the record of 83 from 1991 and 1963.

Baltimore had shot up to 87, shattering the record of 82 from 1947 and 1908.
Looking at the regional map associated with that article, near solid red for record high temperatures.
And, this heat is far from isolated to Washington, DC.  Look at those records above.  And, as Samenow writes,
"Several locations in the panhandles of Texas and Oklahoma and in southwest Kansas registered highs around 100 degrees. In some cases, these temperatures were the hottest ever recorded in October and for so late in the season."
In this second article, Samenow provides absolutely no discussion how these "hottest ever recorded" temperatures might relate to climate change.
Samenow, at times, has done serious articles and commentaries on climate change and climate communication. A strong example of this came in the bluntly titled Meteorologists shouldn't just 'stick to the weather,' they should openly discuss climate change
Every meteorologist who is in the business of communicating weather information has an obligation to explain why the weather does what it does, and climate change is playing an ever-increasing role in this story. Ignoring climate change in weather reporting is anti-scientific by omission, and it's irresponsible.
Despite that strong statement, in that strong article, written amid a record hot DC summer, amid the hottest July in global weather reporting, Samenow's reporting doesn't seem to live up to his own standard of 'responsible communication of weather information'.
Samenow's perspective on climate reporting seems well framed in his interview with his high school alma mata when asked about the how the meteorologist's role has changed in the face of climate change:
Because the issue of climate change is so politicized, some weather communicators steer clear of the topic entirely. Others are starting to see climate change manifest itself in daily weather with increasing frequency of warm/hot days, precipitation extremes and other impacts. And so they view it as their responsibility to communicate the science. On the Capital Weather Gang blog, we regularly write about climate change science and do our best to accurately and fairly convey the latest, peer-reviewed scientific findings and the range of credible viewpoints.
Climate change is, for Samenow, to be separate from that 'daily weather' reporting and focused on discussions of "climate change science".  And, we see this all too often within the Capital Weather Gang work: climate change is ignored or casually dismissed all too frequently, even amid significant weather events with clear climate change signals (like today's heat), with occasional thoughtful and substantive discussions of climate change set aside from direct linkages of 'weather'.
While weather isn't climate and climate isn't weather, news reporting should not divorce the two.
Comments Off on While enjoying sandals in DC during October or garden salad in January, remaining aware of climate threatTags: Washington Post
October 12th, 2016 · Comments Off

on Ashamnu: we have transgressed on climate change
Yom Kippur … the Day of Atonement.
After the period of reflection and engagement with others between Rosh HaShanah and Yom Kippur, this is a moment to turn to internal considerations and the relationship between the individual and G-d.
As part of the prayers for the Day of Atonement, the Vidui, the Al Cheyt or recital of sins, is perhaps the most important. (Modern Judaism being what it is, there are a myriad of translations and modern variations on the Vidui/Al Chet.)
A key word: Ashamnu or "we have sinned".
Ashamnu is a recognition of individual and communal failures. The Al Cheyt is a recognition and statement about sins by ourselves (and our community) against others, against oneself, against G-d through action … and inaction.
It is clear:
One can do wrong purposefully and explicitly … and one can do wrong inadvertently and indirectly.
One can do wrong through action and words … and one can do wrong through inaction and silence.
And, one can … one should … one must act to recognize the wrongs that we, all — as individuals and communities, have done, seek to redress them, and work to avoid them into the future.
This Yom Kippur comes amid a divisive and ugly American Presidential campaign.
Amid the very stark difference between the two candidates, perhaps the starkest relates to climate change.
Donald Trump, reflecting core GOP value streams, rejects climate science and promotes policy concepts (to the extent that he has actual policy concepts) that would worsen the problem (and, perhaps, be the final nail in the coffin on hopes to avert truly catastrophic climate change).
Hillary Clinton, in stark contrast, accepts (climate) science, uses it to guide her policy concepts and views, and has laid out a serious agenda to build and expand on President Barack Obama's clean energy, energy efficiency, and other climate mitigation/adaptation programs and achievements.
Simply put, Donald Trump intends to act to worsen the climate crisis and Hillary Clinton plans to #ActOnClimate.
In our political sphere, there was once too much 'climate silence', a  silence in our political leadership and among too many of us in the of rabid climate science denial and on the damage we are doing to the planetary system, the risks of climate change, and the urgent necessity for meaningful change to change our path toward something that enables sustainable prosperity for humanity.  In October 2016, on this Yom Kippur, on the eve of what might be the most momentous election of U.S. (even global) history, that silence is gone.  It is replace by the stark contrast outlined above.
Yom Kippur — including the viddui — is not typically focused on politics and political action.
It is, however, a time for reflection on our relationships and actions, including setting ourselves on the paths to addressing our failures — in essence, soul-searching to lay out a self-improvement agenda.
Amid this soul-searching, the piercing challenge of climate change, one action set is clear: we must work to push the political system (politicians) to #ActOnClimate.
And, with the stark contrast in our political structure, to make that a reality requires action 8 November:
Vote #Climate.
Vote to put the Democratic Party in charge of Congress.
Vote for Hillary Clinton.
Vote to #ActOnClimate
Comments Off on Ashamnu: we have transgressed on climate changeTags: 2016 Presidential Election · Energy
October 10th, 2016 · 4 Comments
Ken Bone is an internet sensation.  Red sweater and all.  Lost amid the hoopla, for virtually everyone, is that he actually asked a substantive question about an issue arena that literally touches everyone of our lives every single day of our lives: energy policy.  Even less realized, essentially hidden by the debate moderators — partially under the cover of 'undecided voter' — is that Ken Bone has a strong financial interest in the question arena that merited upfront disclosure:
In his everyday life, Mr. Bone regularly works 12-hour shifts sitting in the control room of a coal-fired power plant.
We are through two Presidential Debates and the Vice Presidential debate. The second occurred as many (100,000s to (?) millions of) people were without electricity along the East Coast from Florida into Virginia due to climate change-enhanced Hurricane Matthew. And, through those three debates, we have had zero (yes, 0) questions on climate change with the words climate change only obliquely mentioned in a few quick words by Senator/Secretary Clinton and Senator Kaine.
Ken Bone's question last night is the only one in the debates, to date, that has had a meaningful focus in the energy domain with its clear overlapping implication into climate issues. The phrasing of the question immediately raised questions as to whether it was somehow fossil-fuel industry related. As I put it shortly after the debate, "With all due respect to Mr. Bone, this certainly seems like a question that might have come from a fossil-fuel lobbying group."
Here is, again, Anderson Cooper's (non-disclosure) introduction and Ken Bone's question:
ANDERSON COOPER

We have one more question from Ken Bone about energy policy. Ken?

AUDIENCE MEMBER

What steps will your energy policy take to meet our energy needs while at the same time remaining environmentally friendly and minimizing job loss for fossil power plant workers?
Now knowing Ken Bone's employment, the question does make clearer sense from his mindset. As he explained it,
while energy from coal is "near and dear to our hearts," that he and his co-workers "recognize the need to be environmentally responsible." … With his question he had been hoping to "spark a debate about subsidies for environmental controls for older coal–fired power plants."
To a certain extent, he did achieve some meaningful comments on energy issues — although Donald Trump's rambling response was "filled with inaccuracies, misrepresentations, and multiple factual errors" (emphasizing the fantasy of 'clean coal' and promoting natural gas (which is killing coal) while saying he will protect coal) while Hillary Clinton's was "primarily a fact-based discussion" with "some specific factual errors".
Now consider Bone's question above and his coal employment. Does it change your thinking about his question? Being aware of his employment and having this made explicit, would this have been a better question to hear last night?
How do we meet energy needs while reducing environmental impacts and providing appropriate protections for and assistance to workers in disrupted industries?
Some thoughts here:
This is absolutely a reasonable question and issue for serious discussion in the Presidential debates (even if the specific target of discussion of subsidies for pollution controls for aging polluting coal plants is rather narrow). Arenas of discussion could include how can/should we:

Meet our energy needs sustainably?
Support cleaning up traditional pollutants, with large investments, even if that will not assist in reducing climate emissions?  E.g., what is the investment tradeoff here: is this a mistaken putting good money after bad or a worthwhile investment?
Deal with transitioning existing polluting energy systems into less (to non-) polluting ones?
Provide for workers and communities in industries disrupted as we move toward a more sustainable system, whether coal or otherwise?

Note that in the coal world — just as in many other areas of the economy — much job loss/disruption occurs due to technology (automation) and processes reducing workforce requirement.
The "EPA" and pollution controls is often used, especially by the coal industry, as a bug-a-boo excuse for loss of commercial competitiveness — even when the environmental damages and costs had nothing to do with the economic decision making.

Reality is it is NOT economy vs environment

The phrasing of the question points to what is increasingly shown to be a false dichotomy: energy or environment, economy or environment …

That false dichotomy, while well ingrained in common thinking, is promoted strongly by those who seek to maintain and grow a polluting energy system.

Reality is that this is not an 'either/or' but a 'both' …

Damaging the environment is already significantly costing us (including the U.S.) economically; and,
Fundamentally, if we continue to damage the environment, the economic impacts will move from costly to devastating.

The non-disclosure matters — significantly — because it

Skewed the answer — with context either or both candidate might have given a different response.
Impacts the listener (from media analysts to voters) who heard Bone described as 'undecided voter' rather than an interested party.

The coal industry is about as 'anti-Hillary Clinton' as any specific part of the economy.  Could question be viewed in context of 'softball' for Trump (to strike out on)?
That Ken Bone, someone in that industry, is actually undecided (even if, prior to debate, 'leaning Trump') is substantive — something that might make people pay even more attention, in fact. (Along the lines of: If a coal-industry work is questioning whether he is voting for Trump and is considering voting for Hillary Clinton, should I…?)

Outrage is merited …

We are nearing the end of the debate cycle — and there has not been a climate question and is unlikely to be one …
The sole energy/climate question to date came from a financially-interested party — with zero disclosure about that given to us.
Media silence in the debates seems likely to continue. (After all, what is something that represents a potential existential risk to the public against yet another real @RealDonaldTrump outrage against basic human decency?)
Disappointed and frustrated are incredibly polite terms …
→ 4 CommentsTags: 2016 Presidential Election
The second 2016 Presidential debate just finished and a new meme is emergent: #KenBone.
Sadly, Ken Bone is more likely to be remembered for his red sweater, disposable camera, and other attributes rather than the substance of his question:
ANDERSON COOPER

We have one more question from Ken Bone about energy policy. Ken?

AUDIENCE MEMBER

What steps will your energy policy take to meet our energy needs while at the same time remaining environmentally friendly and minimizing job loss for fossil power plant workers?
Several early striking points here before we even get to the candidates:
Yet another debate has passed without a direct question related to climate change … as if it is some form of unimportant, minor issue with minimal public interest and even less difference between the two presidential candidates.
The moderators mentioned the online questions, pulled up a relatively low question and ignored multiple (much) higher ranking climate/clean-energy questions.
With all due respect to Mr. Bone, this certainly seems like a question that might have come from a fossil-fuel lobbying group: "meet energy needs … environmentally-friendly … minimize job loss for fossil power plant workers…".

Seriously, "minimize job loss for fossil power plant workers" only occurs with the following:

Enacting policies that dissuade automation reducing numbers of workers required per kilowatt hour produced.
Doubling down on a system and policies that ignores externalities (e.g., pollution & health/climate impacts) with increased subsidies for polluting fossil fuels.

While pollution controls can reduce damage from pollutants like ash and mercury, they fundamentally do not reduce coal's climate damages.
Investing in fossil fuels — however done — means reduced resources for moving toward a cleaner-energy economy.

And …
How about an alternative …? Wouldn't a better question have been:

"How do we meet energy needs while reducing environmental impacts and providing appropriate protections for and assistance to workers in disrupted industries?"
Okay, so it wasn't focused on climate and seemed to have come from the fossil fuel industry.
What is the quick summary of the candidates' responses (see transcript from NPR after the fold)?
Donald Trump
Hillary Clinton

Primarily a fact-based discussion

Some specific factual errors.

Such as asserting US "energy independence" when there are still significant oil imports.

Wrongly continuing a line of natural gas as a legitimate "bridge fuel".

This might have seemed reasonable a decade or so ago for someone serious about climate change and a clean energy future but not any more. We now know is simply wrong.

Generally committed to continue — and accelerate — nation's movement toward a clean energy future.
Mentioned Climate Change!

"I have a comprehensive energy policy but it really does include fighting climate change because I think that is a serious problem"
What are three core points for the climate aware voter in 2016 from tonight's debate?
Even climate-aware moderators aren't asking climate questions as debate climate silence continues.

Okay, no surprise, but telling … isn't it?

If you care about climate action, you must vote for Hillary Clinton.

From supporting the Paris Accord to plans to help miners to solar panels to …, when it comes to climate change, Hillary Clinton has many good (even some great) policy concepts …

And, her campaign chief — John Podesta — is probably the best senior 'inside' person on climate in the United States … if his influence continues into the West Wing …

Donald Trump would be catastrophic for efforts to #ActOnClimate —

we don't have 4-8 years to throw away …

Post election day, the work won't be done …

whether on natural gas or otherwise, President Hillary Clinton will need to be pushed (along with Congress, Governors, State Legislatures, Mayors, Business leaders, …) to move toward stronger, fact-based, more effective climate action and policy.
Some shared thoughts:
To Donald, this tweet
Hey, @RealDonaldTrump, "#CleanCoal is like healthy cigarettes". https://www.youtube.com/watch?v=W4-jpOq3ytU … #Coal@Debates https://twitter.com/ClimateDesk/status/785306570427031552 …
And, #NatGas is NOT a #climate solution, actually #BridgeToNowhere https://t.co/6kppjNTocQ #ActOnClimate, go #solar #pv/#wind/#efficiency! https://t.co/ijLAX6qC8J
— A Siegel (@A_Siegel) October 10, 2016
→ 4 CommentsTags: 2016 Presidential Election
October 5th, 2016 · Comments Off

on Echoes of 2008 energy discussion in 2016 VP debate: Looking above shoulders or down between legs
Now Governor Jay Inslee served as a surrogate, on energy issues, for then Senator Barack Obama during the 2008 election. In that role, Inslee provided one of the least-heralded (in my mind) but most important ways of looking at the 2008 election:
John McCain thinks that when you look for energy, you look under your feet.

Barack Obama believes you look above the shoulders and between your ears. Jay Inslee
E.g., that John McCain was looking backwards toward extractive 19th century fossil-fuel energy systems (oil, natural gas, coal) while Barack Obama had his mind open toward the 21st century opportunities with solar and wind systems.
Look to the stark contrast between the two candidates.
All we need to do is do find & replace of "John McCain" with "Donald Trump" and "Barack Obama" with "Hillary Clinton" and Jay Inslee's 2008 comments are even more truly truthful today.
Echoes of 'look under your feet' emerged during the VP debate, as Mike Pence repeatedly (five times, in fact) evoked the mythical fossil-foolish talking point "War On Coal" in falsely asserting that Obama Administration regulations and actions, related to coal, are hurting the economy.
As the AP fact check on last night's debate mildly put it,
The coal industry is struggling, but the Indiana governor incorrectly blamed its woes solely on new federal regulations, omitting the effects of steep competition from cheap natural gas.
A key element of coal's decline is, in fact, another fossil fuel — that other fossil fuel, of course, is being promoted by the Trump-Pence ticket and the rest of the Grand Oil Party.
Natural gas is not the only reason for coal's decline.  Increasingly, other energy systems — whether solar, wind or otherwise — are beating out coal on price considerations. In an unsubsidized bid, Chilean regulators had solar bids that were half the price of coal!  Similar results are occurring with every more frequency in electricity markets around the world.
Of course, there is yet another reason for coal's inexorable decline: an increasing recognition and agreement that 'externalities' should no longer be 'external' to energy system decision-making. When it comes to extracting and burning coal, those externalities are — well — enormous, ranging from devastating West Virginia streams to particulates driving up asthma rates to (okay, greatly reduced) acid rain to mercury poisoning our food supply to that pesky little climate change issue that Pence, Trump, and far too many in the GOP are simply closing their eyes to in denial of basic science.  As we start to incorporate these costs, even only partially, coal's financial competitiveness disappears.  When looking at real costs, burning coal is not just super expensive but simply unaffordable.
Again, in echoing 2008, in 2016 and beyond we need leadership that is looking to seize opportunities and create solutions for real problems by looking forward, not destroyers wearing blinders to real problems in falsely nostalgic appeals to the past — whether on social issues or our energy system.
NOTE: The climate silence in Presidential (and VP) debates continues, with nary a question and only Tim Kaine's brief reference to it.  Pitiful …
Comments Off on Echoes of 2008 energy discussion in 2016 VP debate: Looking above shoulders or down between legsTags: 2016 Presidential Election · coal
September 26th, 2016 · Comments Off

on When graded on curve, @RealDonaldTrump flunks #Science
For nearly a decade, an effort has existed to try to drive attention to science issues in the Presidential Debates. Regretfully, Science Debate has not succeeded in getting prime time debates focused on "STEM" (or STEAM or…) nor even many serious questions asked of candidates in debates. However, the effort has succeeded in getting written responses from campaigns — including, in 2016, from all four 'major' campaigns to 20 serious questions ranging from scientific integrity to climate change to oceans to …
These responses make interesting — often rather stunning (if not jaw-dropping, head-against-wall) — reading.  These are the sort of substantive discussions that, in the minds of many, should have a prominent role in our political discussions as oppos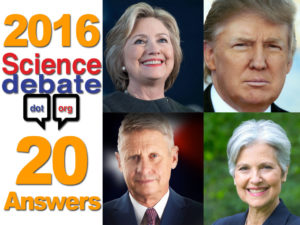 ed to discussing Gennifer Flowers' seating charts or Donald Trump's hand size.
Not surprising, Hillary Clinton's responses to the Science Debate questions are substantive, providing much to think about, and much to support. To find Donald Trump's responses inadequate and, well, simply outrageous seems to be something that any reasoned and reasonable person would conclude.  And, both Johnson's and Stein's responses seem to fall somewhere in between these two extremes.
Having responses from Secretary Clinton, Donald Trump, Gary Johnson, and Dr. Stein provides the basis for evaluating them side-by-side.  While we all, in theory, could do so, thankfully Scientific American has taken care of this for us with Grading the Presidential Candidates in Science.  They have evaluated the answers to all 20 questions, providing a "grade" on 19 (immigration they decided wasn't cleanly a science question and thus didn't include it in the grade).  Every 'grade' has a written justification.
Here, for example, is the discussion of climate change:
3. CLIMATE CHANGE

The Earth's climate is changing and political discussion has become divided over both the science and the best response. What are your views on climate change, and how would your administration act on those views?

Clinton acknowledges that "climate change is an urgent threat and a defining challenge of our time." She outlines a plan "to generate half of our electricity from clean sources," to cut "energy waste" by a third and to "reduce American oil consumption by a third" over the next 10 years. To achieve these goals she plans to "implement and build on" current "pollution and efficiency standards and clean energy tax incentives." Clinton loses a point for not saying where she will find the money to pay for such initiatives. Grade: 4/5

Trump refers to "climate change" in quotation marks, apparently to signal that he still believes—as he has asserted in the past—that human-caused global warming is a hoax. Then he suggests that "our limited financial resources" are best spent on things such as clean water and anti-malaria efforts, without acknowledging the argument that the success of such efforts could be largely influenced by how climate change is addressed. Grade: 0/5

Johnson accepts that "climate change is occurring, and that human activity is contributing to it, including through greenhouse gases." But he plans to rely on the "marketplace" to "facilitate the free exchange of new, efficient, carbon-friendly processes and technologies." However, as Naomi Oreskes wrote in Scientific American in 2015, the marketplace alone cannot solve the climate change problem because the marketplace will not put a tangible cost on carbon without government intervention.Grade: 2/5

Stein hopes to "create 20 million jobs by transitioning to 100 percent clean renewable energy by 2030" through her "Green New Deal." The plan includes providing incomes to transitioning workers "displaced by the shift away from fossil fuels," "redirecting research funds from fossil fuels into renewable energy and conservation" and phasing out "all fossil fuel power plants" and nuclear power plants. Realistically speaking, however, nuclear power will remain for some time the most common carbon-free energy source. Stein loses points for her inflexible anti-nuclear stance and for not detailing the cost of her proposals.Grade: 3/5
This pattern:  Clinton in the A-/B+ range, Trump entrenched in failure, and Johnson/Stein somewhere in between pretty much maintains through the 19 graded questions.  Now, to clarify, this is somewhat like Olympic gymnastic judging — Scientific American didn't want to give 'perfect' scores.  Out of 76 possible grades (each of four candidates 19 times), just two are 5/5 (Clinton on Energy, Johnson on Nuclear Power) — in other words, a perfect score was pretty much impossible.  In theory, the candidates had the potential to get 95 but a more realistic viable 'perfect score' might be in the 75-85 range.  With that in mind, how did Scientific American judge the candidates:
TOTALS

Clinton: 64

Trump: 7

Johnson: 30 

Stein: 44
Anyone surprised that @RealDonaldTrump really falls flat with the science community?
Anyone surprised that Hillary Clinton is the only one to get a passing grade from these science experts?
NOTE: Highly recommended, War On Science, by Shawn Lawrence Otto, a (if not the) key player in Science Debates.
Comments Off on When graded on curve, @RealDonaldTrump flunks #ScienceTags: 2016 Presidential Election · science